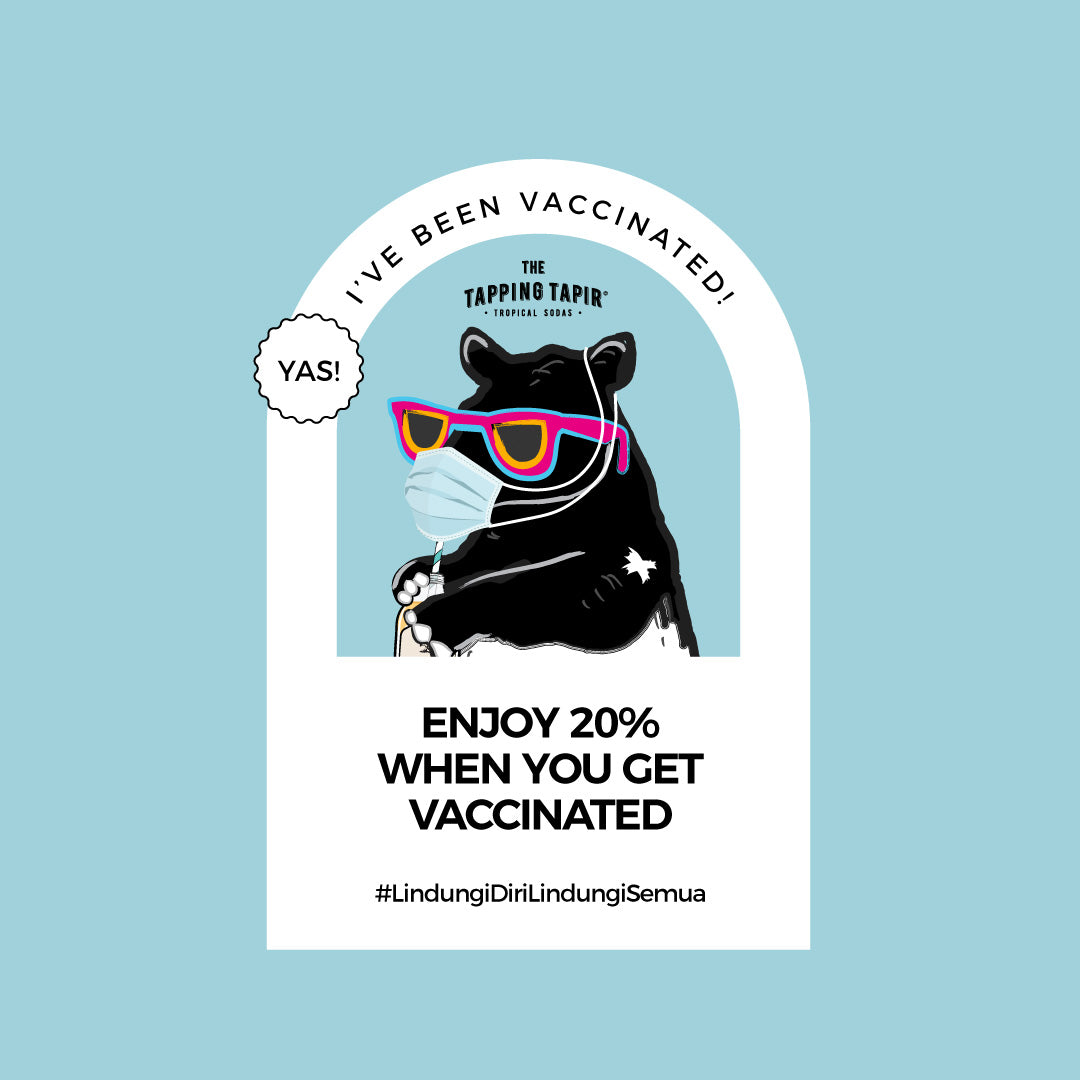 [PROMO ENDED] Get vaccinated!💉As a mark of our support for the ongoing national Covid-19 vaccination programme. We're giving out 20% off when you send us your MySejahtera or Singpass vaccination status. For those that have not vaccinated, don't worry! This offer ends at 31st December 2021. 💙
⠀⠀⠀⠀⠀⠀⠀⠀⠀
Let's end this pandemic together. Stay safe, stay home, get vaccinated and we will deliver to you. 💪🏻
⠀⠀⠀⠀⠀⠀⠀⠀⠀
How to redeem:
1. Screenshot your profile & vaccination status on MySejahtera or Singpass app.
2. Whatsapp 011-51449668 or email info@thetappingtapir.com to get your promo code.
3. You will receive your special promo code on the registered email you provided within 1-2 days.
4. Your voucher is ready to be redeemed!
⠀⠀⠀⠀⠀⠀⠀⠀⠀
Terms & Conditions:
• Only 1 claim per person.
• Applicable to anyone who has taken their 1st vaccine.
• Redemption period is from
1st July 2021 till 31st December 2021
.
• This voucher is only applicable on www.thetappingtapir.com.
• Each voucher is only valid for one time use per customer. Log in/create store account at www.thetappingtapir.com is required to redeem this voucher.
• This voucher is non-refundable and cannot be exchanged for cash.
• Voucher is not valid in conjunction with other existing promotions, offers or deals.
• Available for MySejahtera and Singpass/Tracetogether only.
• All information collected will be used solely for verification purpose and only for sending the voucher to you.
• Maximum order of 10 cartons only. (Orders more than 10 cartons will be cancelled and refunded within 14 days from the date cancellation.) 
• Applicable to one address only.
• This voucher is not valid for Christmas Collection.
• The Tapping Tapir Sdn Bhd reserves the right to amend the terms & conditions of this voucher without prior notice.
⠀⠀⠀⠀⠀⠀⠀⠀⠀
#lindungidirilindungisemua
#kitajagakita